2127 East Sinto St. Spokane, Washington 99202
Hours:
| | |
| --- | --- |
| Wed: | 6:30 pm – 9:00 pm |
| Sun: | 8:00 am – 12:00 am |
Enkyoji Buddhist Sangha of Spokane is an satellite Sangha of Seattle Choeizan Enkyoji Temple.  This group is led by Eisho Rosman who is a student of  and authorized under the guidance of Kanjin Cederman Shonin, Abbot of Seattle Choeizan Enkyoji Temple and the Enkyoji Buddhist Temple of Rochester.
Mission Statement:  We are a welcoming Sangha, providing a safe environment to learn and grow in the Nichiren Shu  tradition of Buddhist practice.   As a satellite temple, our mission is to make the Dharma readily available to the individual communities throughout Washington State.
Enkyoji Buddhist Sangha of Spokane, belongs to the Nichiren Shu lineage of Buddhism and is a official Sangha of the Enkyoji Buddhist Network.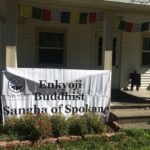 Biography of Lay Leader Eisho Rosman:
Completed Lay Leader training 2013 and was given responsibility to maintain and facilitate first the Ballard Nichiren Shu Sangha then Enkyoji Buddhist Sangha of Spokane.
"I am very excited to help spread the message of the Dharma here in Spokane.  The Nichiren Shu tradition provides me with positive structure and constant support as I grow in my training and understanding.  The teachings provide me a sense of constant growth which challenges me to be compassionate in my daily life.  To follow the teachings of The Lotus Sutra and the chanting of the Odaimoku have been the treasures I have found in my journey of Buddhism.  I wish to spread the wonderful teachings of the Lotus Sutra to make people peaceful and happy.
Contact Information:
Eisho Rosman
Phone:(206) 321.0911
Email: gabrielbarber71@gmail.com